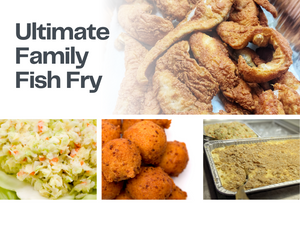 The Ultimate Family Fish Fry is the catch of the day!
Perfect for a large gathering, you choose between whiting or trout, 10 lbs fried to perfection (30-40 pieces of fish depending on fillet sizes).
To complete your feast, pick one 1/2 pan sized side - our homemade collard greens, coleslaw, or mac & cheese. (weight of 1/2 pan side is about 4.5 lbs)
We'll finish it up with a 1/2 pan of our homemade hushpuppies (about 30 pcs), and 1/2 pan of our creamy homemade banana pudding.
So grab a group, and let's fry!

This feast is only available to order online for in-store pickup.  Orders must be placed 24 hours in advance.  Not available on Sundays.