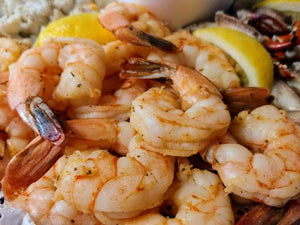 Satisfy your cravings with hot and delicious steamed shrimp! Our steamed shrimp is prepared to perfection, choose a seasoning level that will make your taste buds tingle. 
Add on some garlic butter for an extra rich treat. 

Note: These are 16/20 ct peeled & deveined imported shrimp. 
That means there will be between 16-20 shrimp per pound.
For other available shrimp option please call or visit to place an order. 
We recommend picking up as close to the time you need as possible for best possible quality.